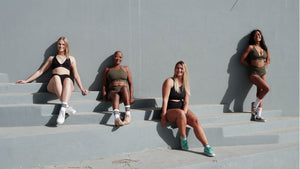 Be whoever you want to be
Pole & aerial wear, designed to celebrate your uniqueness
Abhy was born out of the desire to create a sportswear line that supports aerial athletes to achieve their fullest potential when moving. We believe in women who express themselves freely with ease and joy, and who are committed to helping others do the same.
We want to empower athletes to feel great and unique and to be proud of what our bodies are capable of when moving.
Shop now
Our Story
Made by sport enthusiasts
Abhy was founded by Karina, a sports enthusiast and passionate pole dancer, with the vision to create an effortlessly cool and always comfortable sportswear line, which allows for complete freedom of movement. At abhy, everything we do is fuelled by the passion for movement. This is shown trough everything we design and has led to the slogan "Movement Aesthetics", which is intended to remind us to be proud of what our bodies are capable of and to express ourselves freely.

All of our designs have been created from scratch with the intention of finding the perfect fit that flatters all body types, creating effortless essentials.
Acting as sustainably as possible through the whole development and production process is a matter of fact for us. Our designs respect the properties of the material and its impact on both the body and the planet. We proudly support ethical consumerism and a sustainable lifestyle.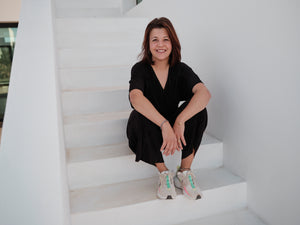 "When creating abhy, I wanted to address women who are passionate about pole dance and aerial sports, and who express themselves freely no matter what."
Karina (Founder)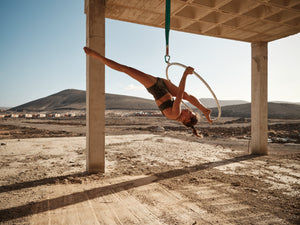 OUR PASSION
Movement is our core
Originally inspired by the grace and power of pole and aerial sports, we celebrate all sports and forms of movement. Pole dance and aerial acrobatics mean freedom of movement to us. There are no rules. Either acrobatic, sporty, or sensual – it's all about expressing yourself. When we dance, we can be anything we want. In these moments we are unstoppable.

Our founding mantra "Movement Aesthetics" is a gesture towards self-confidence and self-expression. We want to encourage women to find their own aesthetics and express themselves freely. Because dance is a language we tell with our movement. Let's celebrate the aesthetics of movement and find what moves you!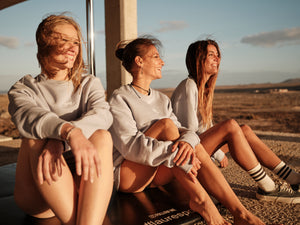 OUR COMMUNITY
Better together
From day one, abhy's mission has been to cultivate a community of women who live their lives without limits. A community full of inspiration, which gives us the power to go beyond, and which understands and respects our way of expressing when performing in the height.
The abhy lifestyle embodies movement, freedom and aesthetics and we are happy to open our world to everyone.